COL FRANK L. CARLONE
Armory
1060 Hamilton Street
Somerset NJ 08873
August 2, 2001
COL Bill Apgar, President
NJNG Militia Museum
NJDMVA
Trenton New Jersey
CSM Bob Theall, President
THE ESSEX TROOP
Essex Troop Armory
Pleasant Valley Way,
West Orange New Jersey 07052

Subject: ESSEX TROOP Memorial Grove, Sea Girt NJ

Dear Bill and Bob:
Every once in a while, upon finding out that I was once an officer and trustee of the ESSEX TROOP, some one will ask me if I knew how the ESSEX TROOP Memorial ever got to be erected at Sea Girt. Every time I tell the story, I am urged to put it in writing so that it might become part of its history at the Militia Museum. One person told me that if this weren't done, then, someday someone would make up a story on how it happened. Well, here goes…
On a cold Tuesday afternoon in March of 1978, Col Ed Geiger and myself met as we usually did, at Joe O'Hara's "Clipper Ship", next door to the Roseville Avenue Armory, in Newark, for a little libation. Col Geiger was the President of the ESSEX TROOP Association and I was the Secretary-Treasurer. The Clipper Ship had been the Troopers' watering hole for many generations, reportedly, even dating back to the days before the Newark Roseville Avenue Armory existed. Several other troopers, (the real standard bearers), including Paul Kelly, Stan Krenkowitz, Hap Sepe, Chaplain O'Neill, Warren Truesdell, and others, would frequently join Ed and me or vice versa.
On this particular day, while sitting at the "Troopers Corner" of the bar, some construction workers and the armory shop foreman, who had come in to discuss Armory renovations over supper, joined COL Geiger and Chaplain O'Neil and me. It turned out that the rear entrance (Bathgate Place) to the Armory was to be torn down and widened, and the construction people were there to bid on the job.
On hearing this, we asked what was to become of the "ESSEX TROOP Façade that was built in above the large doorway. There were two cement faced Essex Troop Crests, one on each side of the large Façade, which itself was inscribed with the words "102nd Cavalry" and "ESSEX TROOP". The answer we received was not what we wanted to hear. We were told that everything would be demolished and discarded, as it would be too costly to try to save anything.
Geiger got a little irritated at this and the ensuing drinks did nothing to cool him down. After a heated discussion, the group left, leaving Geiger steaming from the ears. All I said was "Maybe we should call the Chief of Staff", as General Bud Menard the Adjutant General was then known.
We spent the next 3 hours trying to get the proper wording into our minds. It was Geiger's plan call General Menard the next day and "set him and the rest of them South Jersey Redlegs straight." Chaplain O'Neill left after his second or third manhattan, wishing us luck in our venture. By the time 2200 Hrs rolled around, Geiger was telling me it was my responsibility, as a "fine and upstanding North Jersey Redleg" and as the ESSEX TROOP Secretary – Treasurer to get a letter together, for his signature that could be mailed to Menard. He wanted the letter ready before the end of the week. By the time I left the Clipper Ship, we were both "6 Sheets to the Wind" as they used to say.
Not wanting to go home in that condition, I went directly to my office at the East Orange Armory where I spent the next few hours hunting and pecking the characters of the attached letter, on a small portable typewriter, starting and restarting a new sheet until I got an error free letter. When I finished, I decided against letting Ed Geiger approve and sign it. Knowing Geiger, he never would approve anything on the first try, so I decided to sign my name "for him", put it into a "Postage Free" military envelope and mailed it at the East Orange Post Office. I mailed the first carbon to him at his home in Linden. It was about 0230 hrs before I got home. A copy of the second carbon is attached.
We never received a reply from General Menard. He never even acknowledged the letter. The next we heard was when the Armory shop foreman called Ed Geiger at his job at Central Cadillac in Newark, and told him that the Façade and crests were removed with only slight damage and were safely stored in the Armory Arena Loft, right next to the "Truesdell Clock (which was a working clock mounted on the Armory Balcony). The façade was later removed to the West Orange Armory where it remained for several years before it was erected at Sea Girt. Col Geiger became very involved laying the groundwork for the Militia Museum and when he got a strong foothold, he selected the location and had the memorial erected right across from the Museum's front door. The brick faced "wings" were added a short time later.
Shortly thereafter, a few of us went down to Sea Girt to mount the Bronze Plaques now affixed to the Memorial. We did this under the direction of and with the tools of Trooper Bob Kent, now deceased. In addition to Bob Kent, the group consisted Troopers Paul Kenworthy, Ed Geiger, Pete Mercuro, President, Warren Truesdell, Bob Wilson (who lived nearby) and myself as the Vice president. I'm not sure but I think Stan Krenkowitz may have been there too. Geiger, Truesdell and Wilson provided subsistence, which consisted of a few cases of beer and several gallons of Geiger's pre-mixed and chilled Manhattans.
I remember it as if it happened this morning. There was Bob Kent who started off measuring and selecting the exact spots on which to mount the plaques, explaining every calculated step. Now you have to know that Bob was longwinded and sometimes took hours to say things that could be said in seconds. It wasn't too long before he lost every body's attention but he just continued to ramble on and on while the rest of us stayed out of the hot sun and partook of the beer and Geiger's Nectar. Nobody brought any food, so it wasn't long before the libation and conviviality took hold. But, to be honest, this is when we were at our best.
Truesdel, Kenworthy, Wilson and Geiger, the Elders, did very little except to supervise and yell directions from afar. Mercuro and I, being the youngest, were the laborers. We held the Plaques steady while Kent Drilled the holes, with which to mount the plaques, into the concrete and bricks. Geiger kept telling Mercuro to get into the shade because the sun was reflecting off his baldhead and blinding everybody. After a while and after a few manhattans, Mercuro got mad and dropped everything and sat down. Geiger took his place and Kent continued drilling, never losing a second or skipping a breath during his dissertation. By now, he was talking about his favorite subject, the life and foraging habits of Donkeys (You just had to be there or at other Troop meetings to appreciate this).
On placing the second plaque, we were being directed by Mercuro as to how level the plaque appeared from a distance. My arms were getting tired while Geiger and Mercuro argued as to whether to raise or lower the right corner, then the left corner etc etc. This went on for 2 or 3 minutes when I turned around and looked at Pete and I couldn't believe my eyes. There he was, almost bombed, listing about 30 degrees to Port and he was telling us how to level the Plaque. What's more, the more we tried to ignore him, the madder he got. You could always tell when Colonel Pete Mercuro got mad. His head would turn Beet Red. But he finally settled down and by the time we were finished we were all admiring a "Job Well Done" in the usual style of the ESSEX TROOP. That is, with a little libation and conviviality.
Some of them are gone now. Ed Geiger, Bob Kent, Warren Truesdell, Bob Wilson, but Kenworthy, Mercuro, Krenkowitz and myself are still around. I think this entire crew of Bandits, deserves permanent recognition for their efforts in preserving, and erecting and maintaining the ESSEX TROOP Memorial at the Militia Museum in Sea Girt N.J.
This 1982 photo shows Essex Troopers L to R; Col (ret) Ed Geiger (wearing WWII – Korea era Officer's "Pinks N Greens"), Retired First Sgt Max Marquard (now deceased), CWO Dan Espy, President, and myself, COL Frank L Carlone, Vice President, shortly after the monument was erected.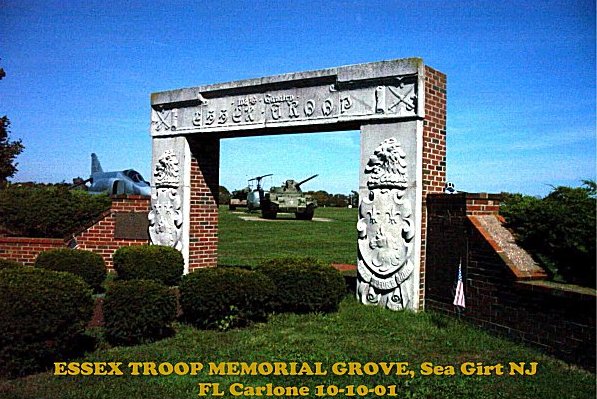 This is a photo of the finished product, as it looks today, taken from about the same angle.
I would be remiss if I didn't mention that for many years, Troopers Wilson, Truesdell and Kenworthy were the groundskeepers at the site, often at their own expense. After Truesdell and Wilson passed away, Paul Kenworthy stayed the course alone until only a year or so ago. We owe them our thanks for that as well.
Also attached is a copy (of the original yellow onion skin copy) of the letter I wrote to General Menard, which I will relinquish to the appropriate organization upon guarantee of safekeeping and/or safe display.
Sincerely,
Frank L. Carlone
COL AUS RET